National Geographic Magazine has opened its annual
photo contest
, with the deadline for submissions coming up on November 4. The Grand Prize Winner will receive a 10-day trip for two to the Galapagos Islands. The kind folks at National Geographic were once more kind enough to let me choose among the contest entries so far for display here. The captions below were written by the individual photographers.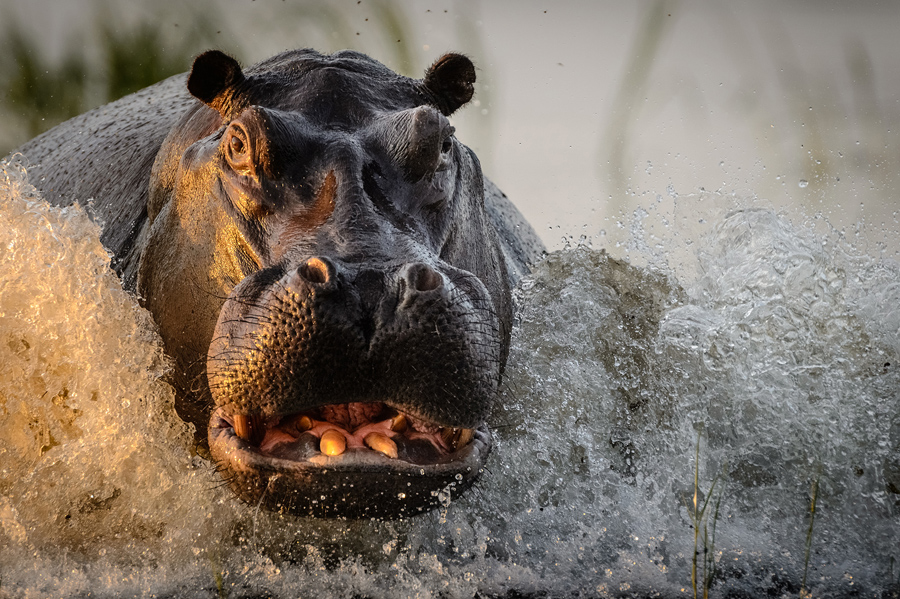 "Territorial Hippo." I was on a photographic safari in Chobe River, Botswana in April 2016 when I took this image. At this time of the year the water levels are high and herds of hippopotamus share the tributaries. This particular bull was very territorial and liked to mock charge whenever our boat (driven by a qualified local guide) passed his patch of the river on our daily outings. On this occasion, I pre-focussed my 600mm lens and fired a few shots at a safe distance and got this golden hour shot!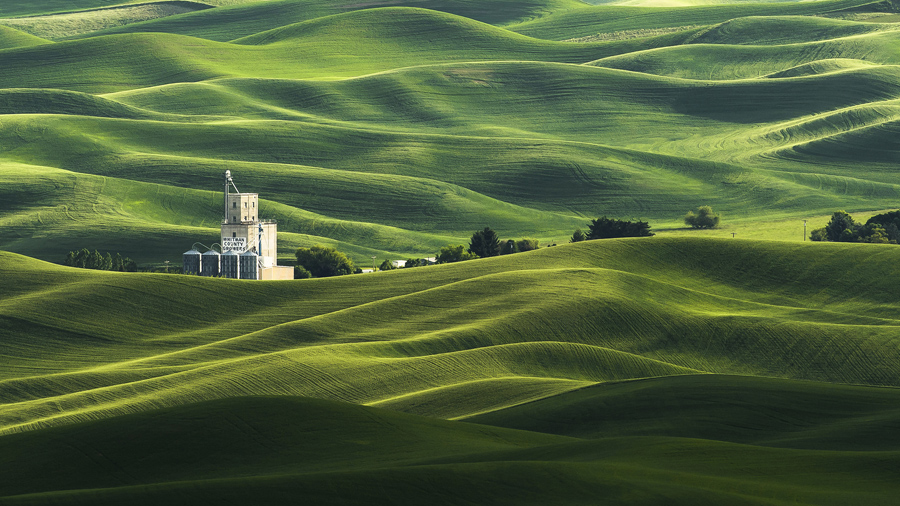 "The Rolling Fields of Palouse." Often referred to as the Tuscany of America, the Palouse region of Washington State offers one of the most beautiful scenic drives in the United States. The seemingly endless rolling fields of wheat, lentils, and canola offer year-round beauty for those [who] choose to take in the spectacular landscape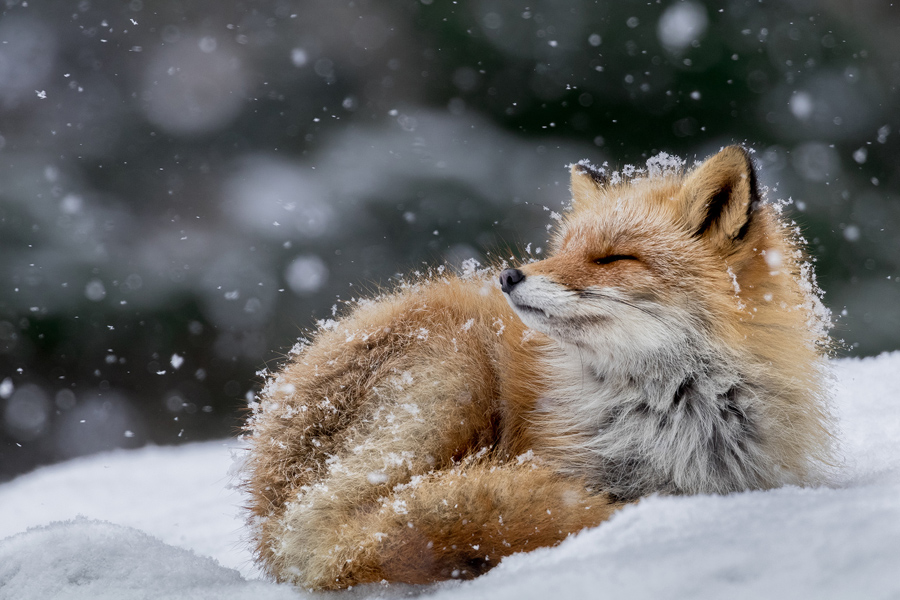 The fox was bathing in the snowflakes in Japan's Shiretoko National Park.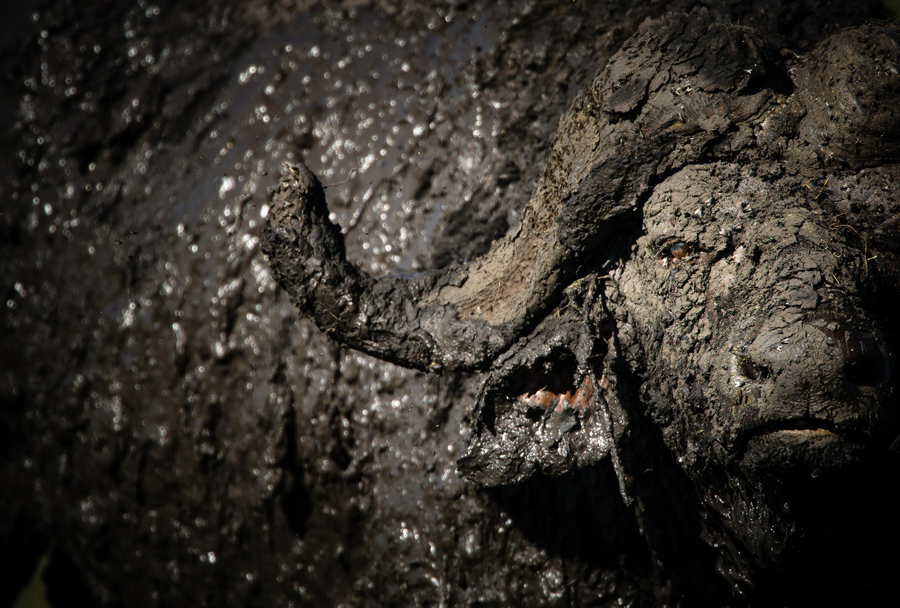 "Buffalo Mud Bath." An African Buffalo full of mud late in the afternoon in the Masai Mara, Kenya. A different portrait for this powerful animal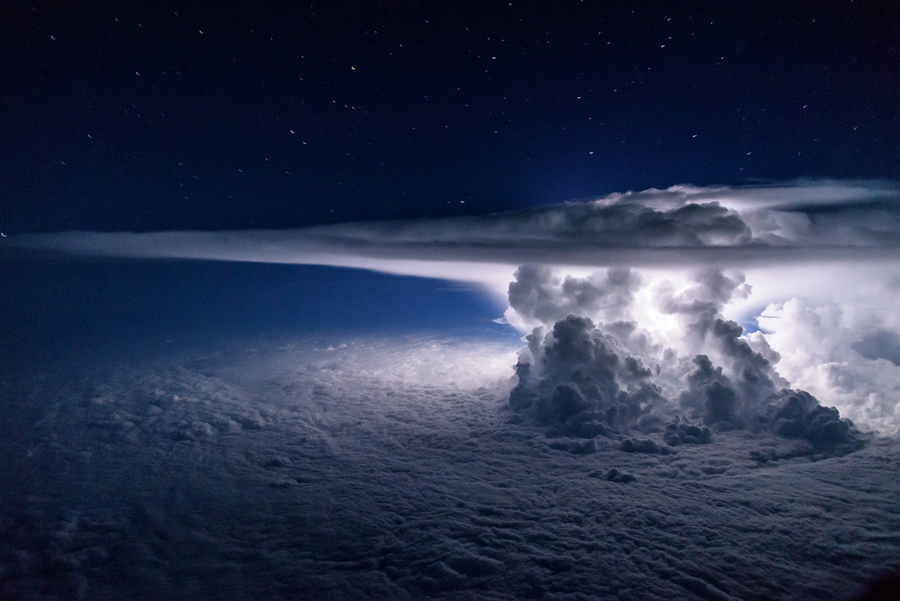 "Pacific Storm." A colossal cumulonimbus flashes over the Pacific Ocean as we circle around it at 37,000 feet en route to South America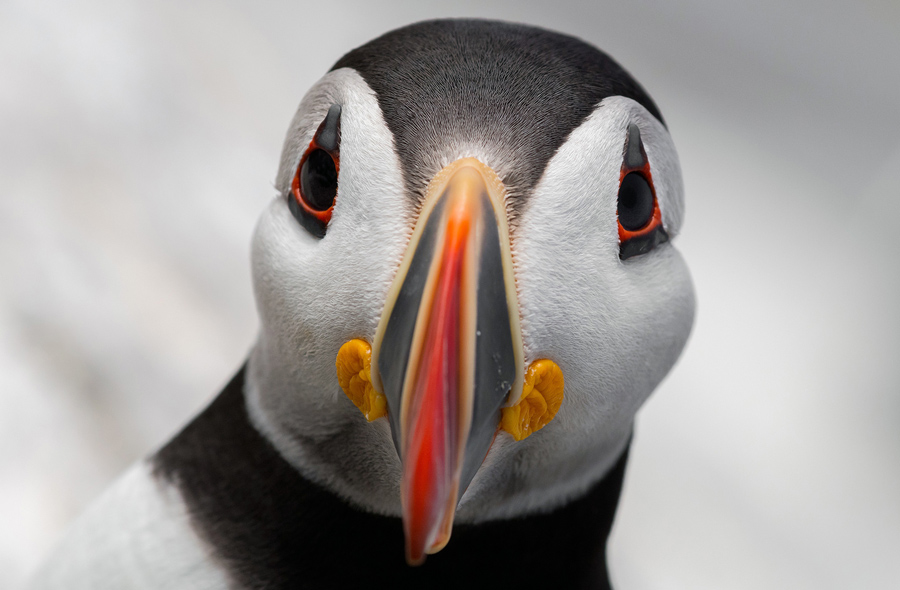 "Atlantic Puffin." A closeup of an Atlantic Puffin on the protected nesting site of Machias Seal Island, off the coast of Maine. Access to the island is very restricted for the benefit of the puffins. It was an amazing experience to be up so close to these beautiful and unique birds that spend the majority of their lives at sea.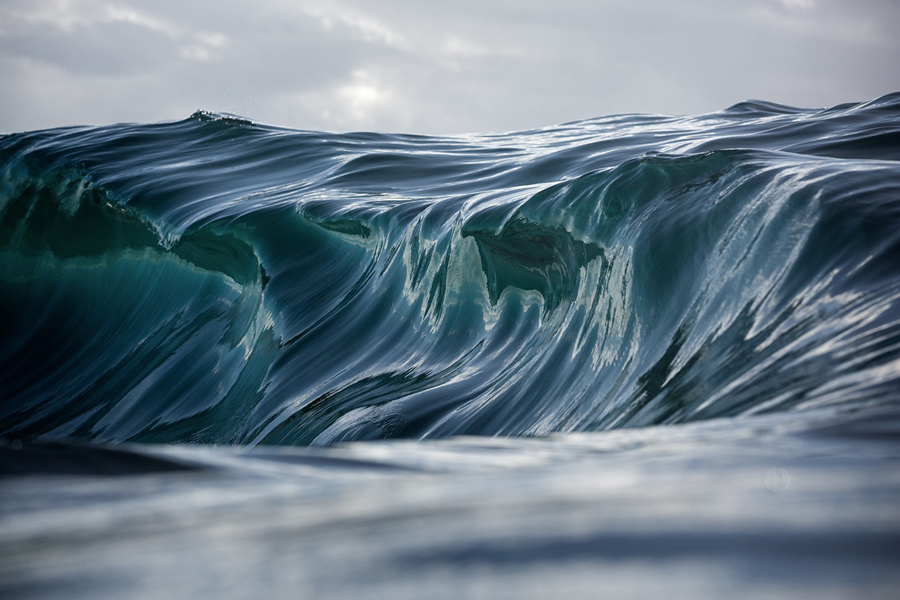 "Congeal." A jelly-like wave curls in multiple layers over a shallow reef on the New South Wales South Coast, Australia. When there's no wind on the ocean's surface, waves can can look like surreal sheets of melting glass.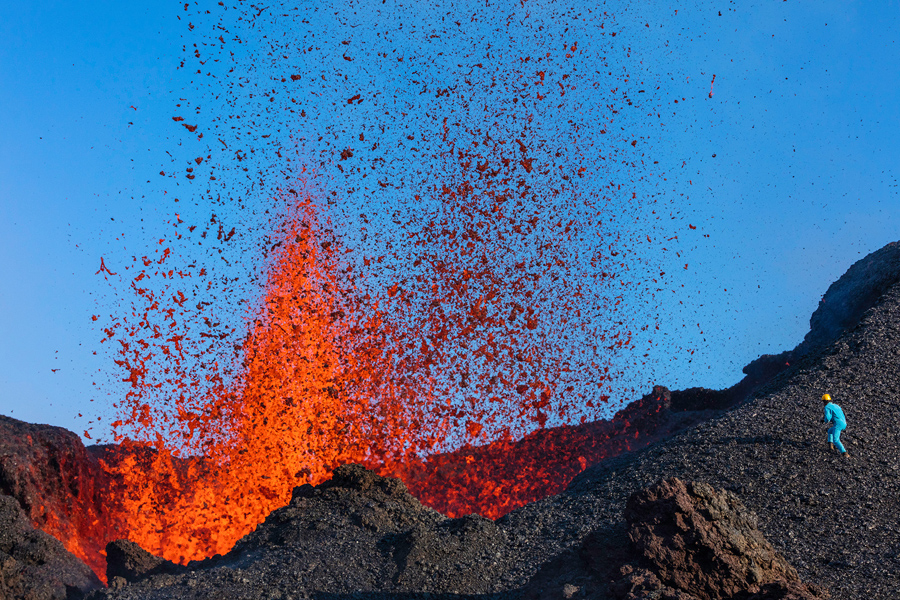 "Crazy Man!" A person ascended the cone to see the lava lake inside on the French island of Réunion. He stayed at least 2 minutes, without any protection.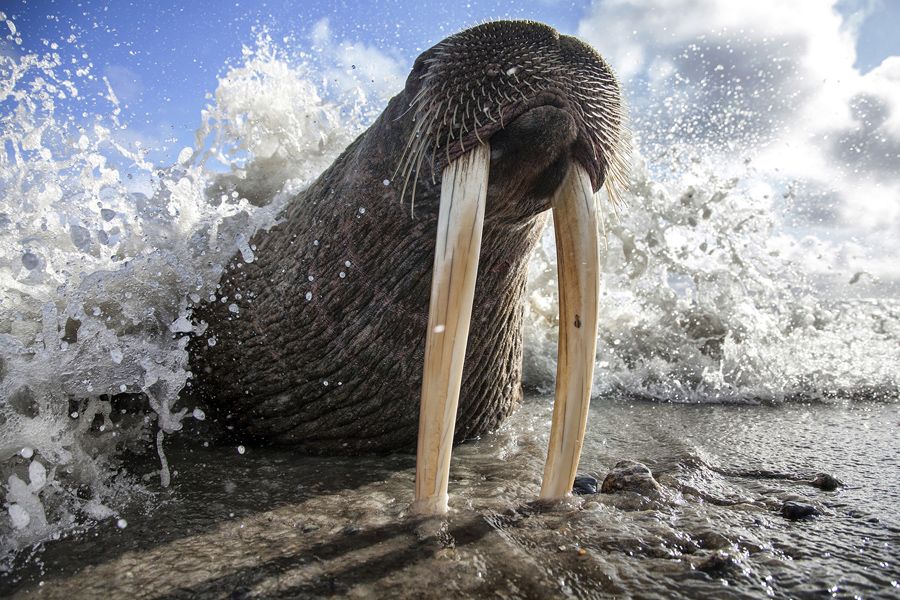 "Ocean Guest." A sleeping walrus on the shore, Chukotka, Russia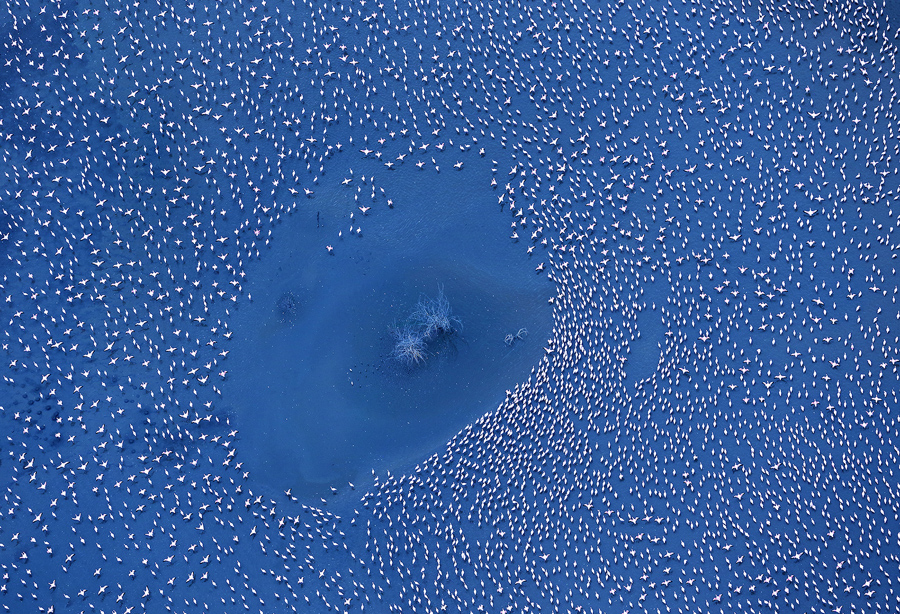 "Paradise for Flamingoes 2." Thousands of flamingoes live in Lake Bogoria [in Kenya] where it's like paradise for them.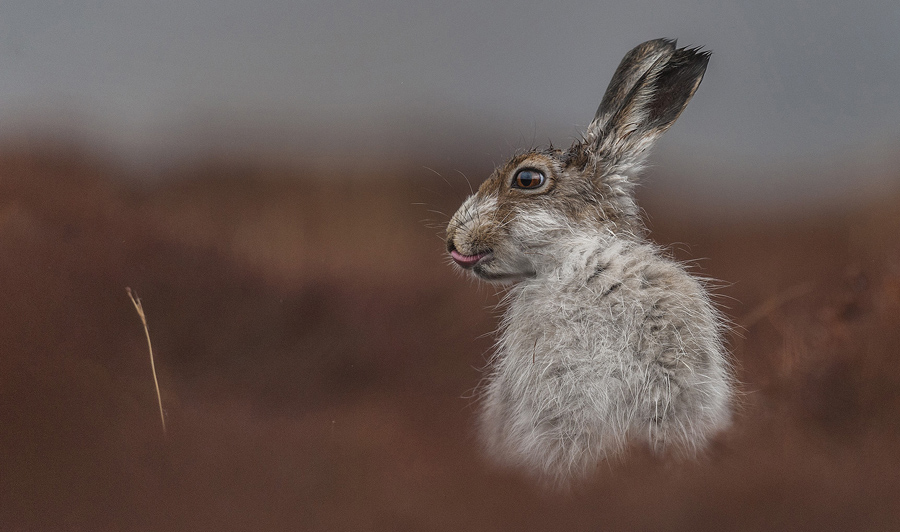 "Did Someone Say Hare?" Mountain Hare contemplating that last piece of grass, in Scotland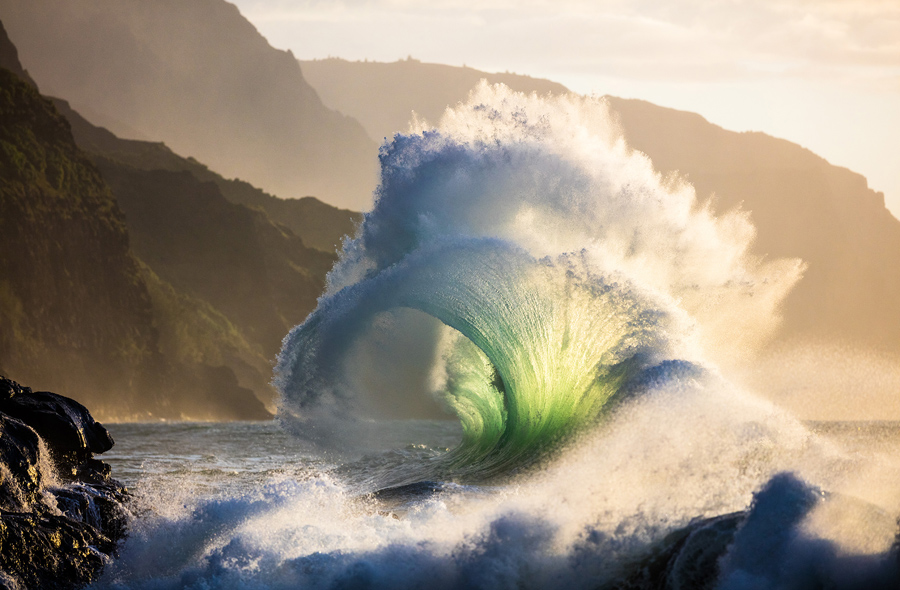 "Pop the Top." Waves shoot high into the evening air like champagne at a party in a celebration of life and the joy of being in nature. Na Pali Coast, Hawaii.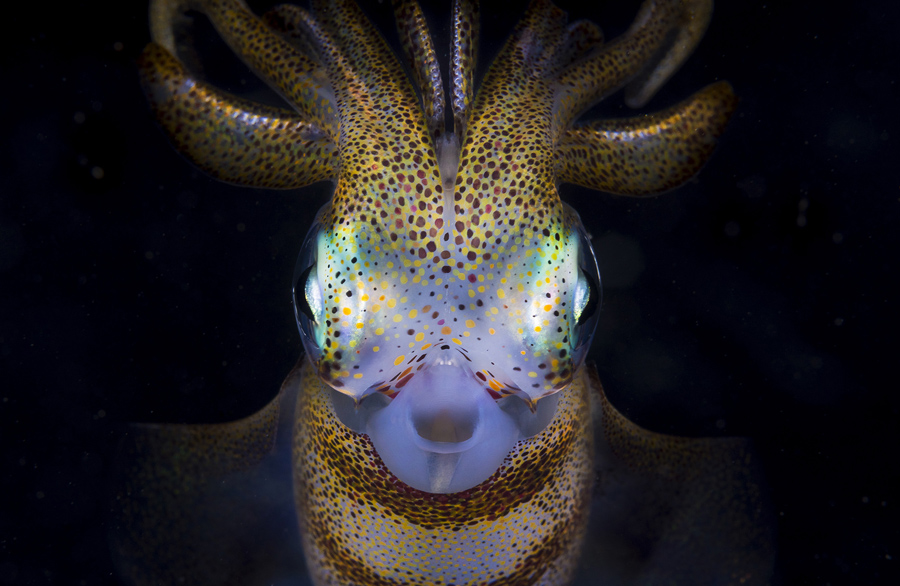 "Celestial Terrestrial #1." The alien-looking southern calamari squid is native to Australian and New Zealand coastlines. Its dot-painting-like skin patterns are reminiscent of ancient Aboriginal paintings. It took me several weeks of night dives and patience to achieve this unique portrait: When I shot this frame I was elated!!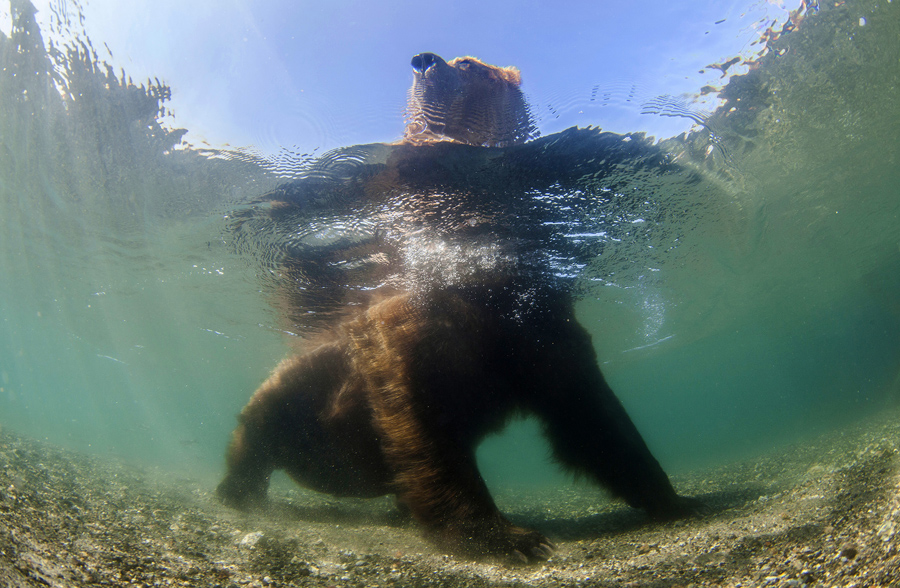 "Napoleon." Bear in the river while fishing for salmon. Kamchatka, Russia.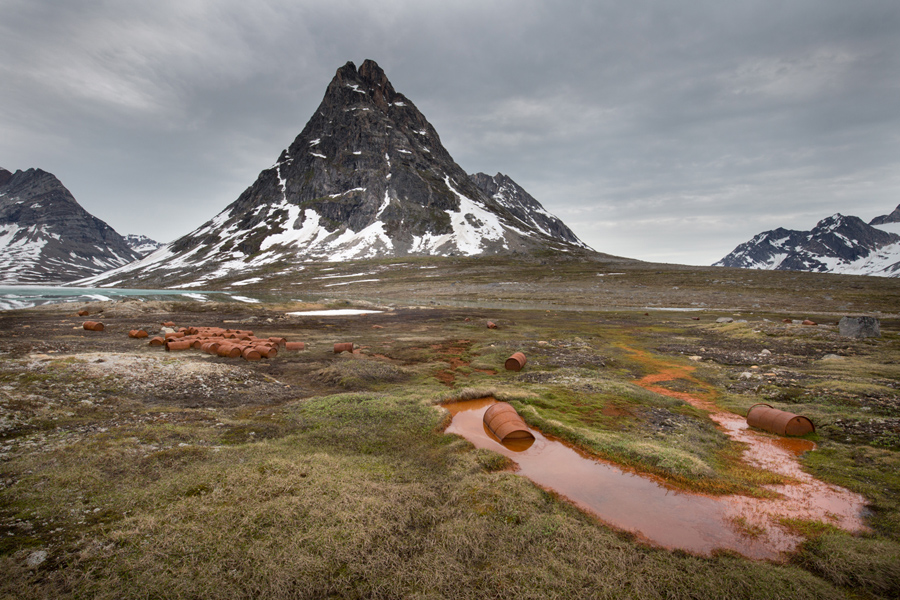 "American Flowers #1." In Greenland's pristine landscape lies a US Air Force base which was abandoned in 1947 and everything was left behind: vehicles, asbestos laced structures, and over 10,000 aviation fuel barrels. The Inuits who live in the region call the rusted remains American Flowers. In 2014 and 2015 I camped out solo to photograph it. In 2015 my 5 day solo camping trip turned into 8, as I couldn't get picked up due to the weather.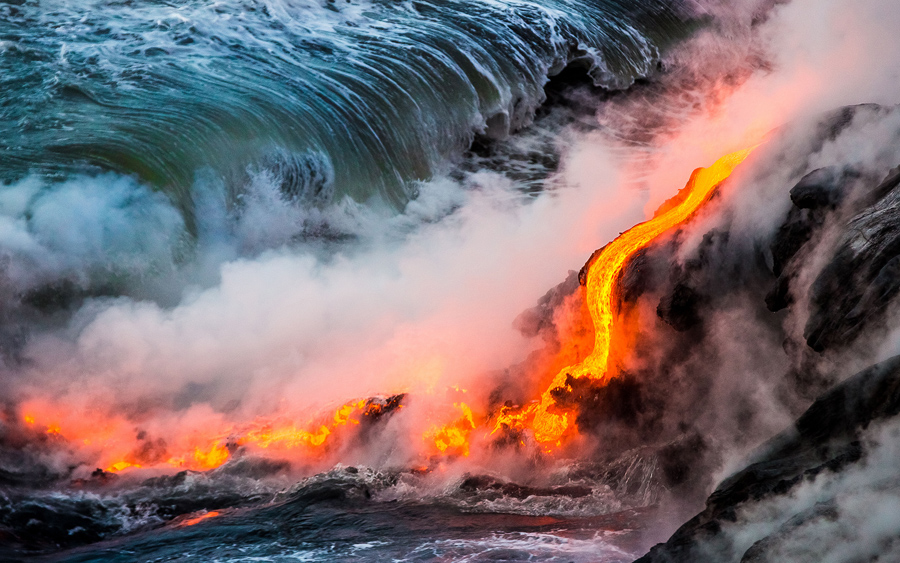 "Lava Ocean Entry." Lava ocean entry from the 2016 Kalapana lava flow on the Big Island of Hawaii. Watching new earth being formed is an amazing experience. Boiling ocean waves crashing into fresh lava & giving off clouds of steam along with scatter[ing] violent lava bursts from pressure release. Creation of the earth is mesmerizing & powerful sight to see.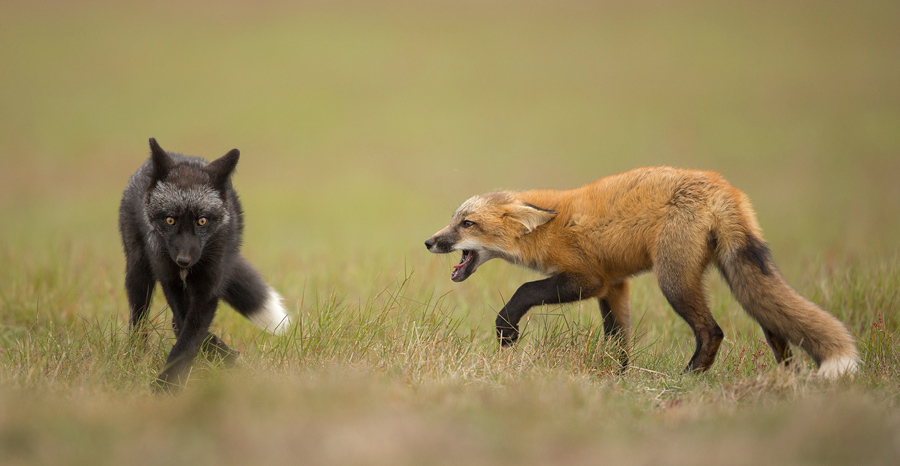 "Help!" Fox kits are very active and they often engage in play that prepares them for lessons later in life. In this case, however, it would seem one is not quite prepared for a pending attack. Image captured with a 500 mm lens which yielded the very shallow depth of field (amount of the scene in focus).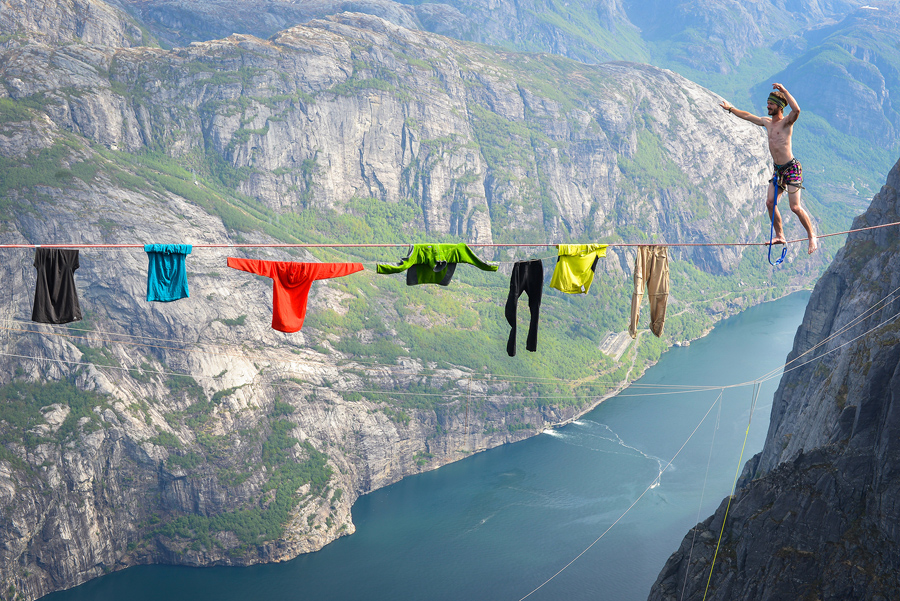 "Washing Highline in Kjerag." In Norway, above the fjord, Paulo enjoys highlining at 980 meters above the ground, drying some laundry at the same time.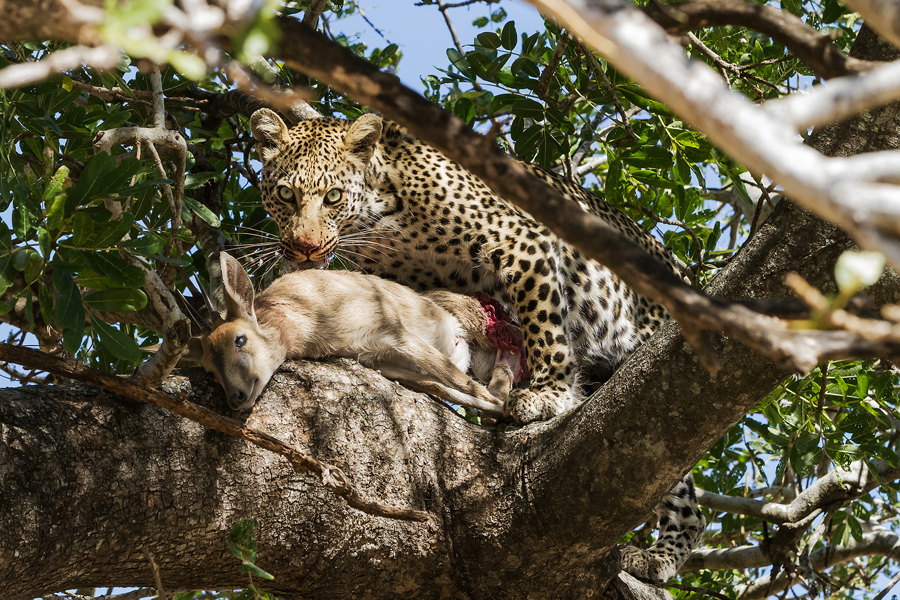 "Leopard With Kill in a Tree." We drove along a short gravel road in Kruger National Park this year until we saw a few cars standing under a tree next to a dry riverbed. When we arrived there, we could see a leopard with a small antelope sitting in a tree. There were a lot of branches in front of his face, so taking a good picture wasn't possible. We stood there for about an hour watching the big cat eating and moving his kill every now and then until we had the perfect position for this shot!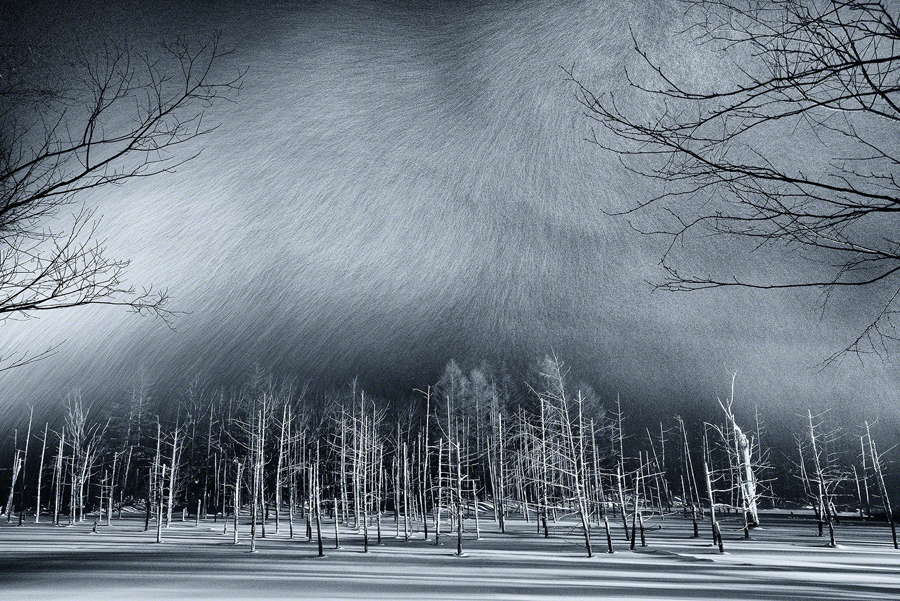 "The Frozen Pond With Snow." The famous "Blue Pond" in Hokkaido Biei-cho, Japan. The scheduled illumination period for the pond this year will be from November 1, 2016 to February 28, 2017. We, all the residents who are living in Biei town, are expecting more tourists from all over the world coming to visit us this year.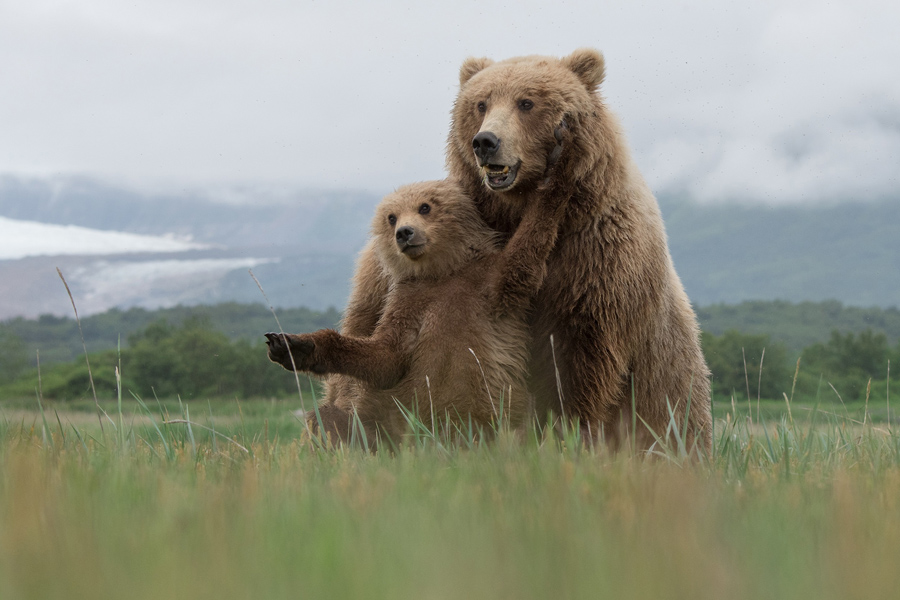 "Bear Hug." Brown Bears, Katmai National Park, Alaska.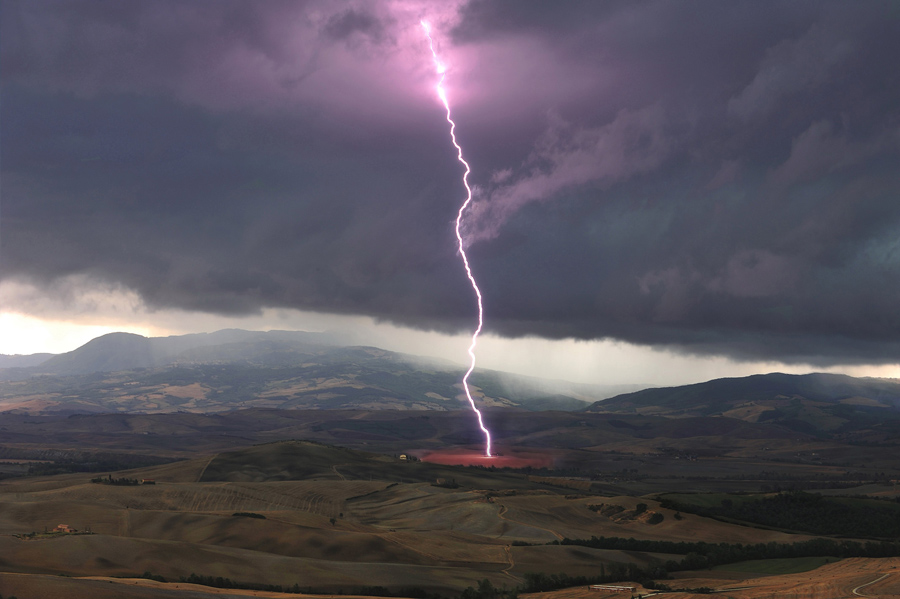 "From Floor to Cloud." In Pienza, Tuscany, I was waiting for this lightning!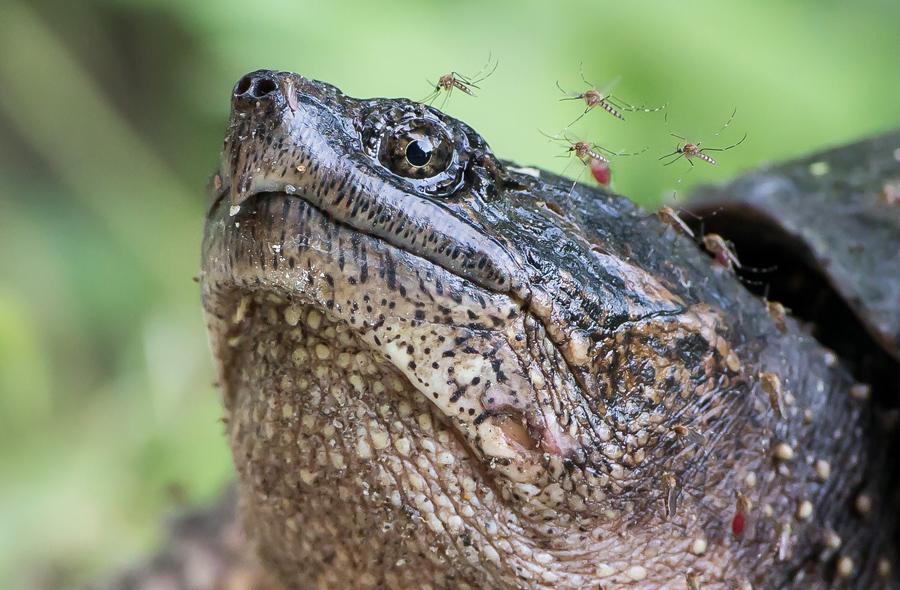 "Skeeter Attack." A group of mosquitos attack a snapping turtle. Each year, snapping turtles emerge from the wetlands at Bombay Hook NWR in Delaware. The mosquitos are particularly bad in this area and swarm these turtles.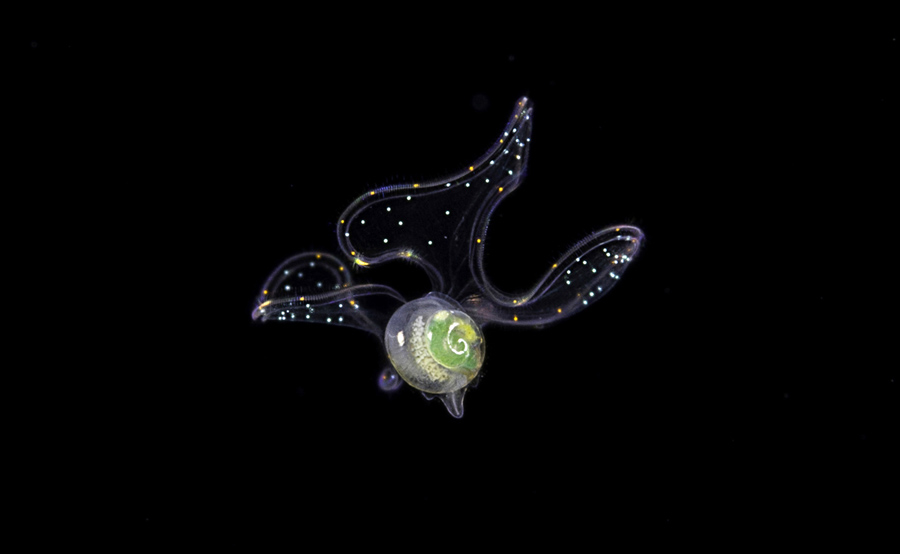 "Microscopic Underwater Butterfly." Another delicate and beautiful underwater creature that appears during the vertical migration. This is the largest migration on Earth, and it occurs every night in the oceans around the world. Tiny planktonic creatures, larval forms, and pelagic miniatures come up to feed in the dead of night. This photo [was] taken in the Gulf Stream Current off SE Florida, in the Atlantic Ocean.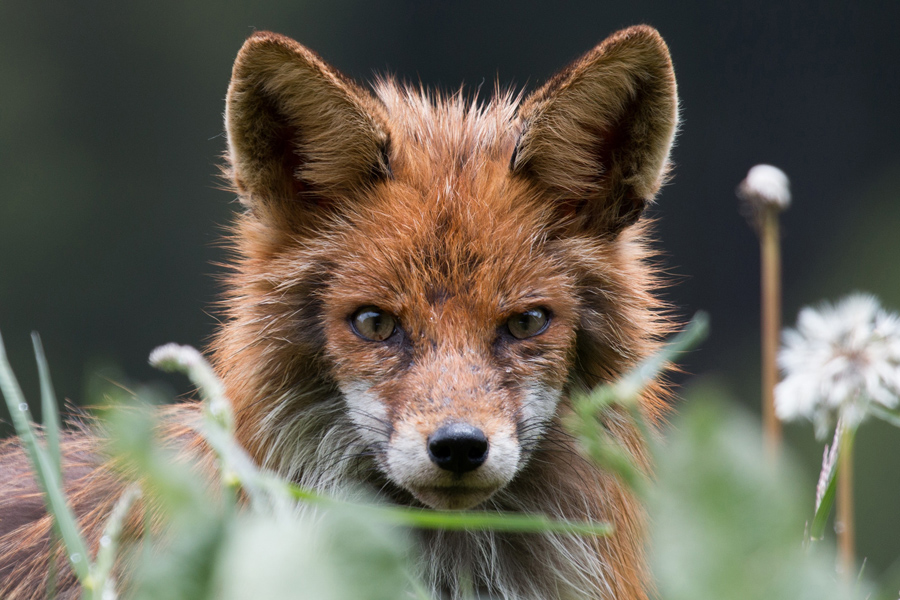 "Red Fox." It's easy to romanticize the idyllic Alpine meadows of the Swiss Alps in spring, glowing with dandelions and ringing with the chimes of cow bells. This fox tells a different story of much harder times. I fired off a few shots showing the fresh wounds of her struggle to survive. I chose to keep these hidden from you and let her eyes do the talking.